- About Rebbe -
Lars Rune Rebbestad nicknamed `Rebbe`is a guitarist, singer, songwriter and musicproducer located in Hammerfest, northern Norway.

At 15 years of age Rebbe got his first guitar from his parents. After terrorizing the family and neighbours for some months, he started his musical journey with his first real band, the "Container Boys". After that he was in several local bands and really enjoyed playing music with friends. Bands such as "Strax", "Van Gogh", "Hammerfest Rockeensemble", "Fritzie & The Total illusions", "C-90", "Brassica Club Band", "Wild Rover", "Little Wing" and "Boys Voice" was the start of a long career in bands and projects as a guitarist and songwriter.


- "He plays from somewhere deep in his soul, with passion an conviction. His guitar moves me deeply." - Russ Taff

Rebbestad released his first soloalbum (on cassette!!), `The Chain Gang`in 1988, and the second (On CD) `Lars Rune Rebbestad`in 1994. He composed the score for the musical `Bare Hasj?!`in 1987, and released the title song as a single the same year. Some singles has been released under his own in the years until now. Check the Discography page for more details on releases etc. (Text continues below the image gallery).

CHECK OUT THIS IMAGE GALLERY FROM MY MUSICAL JOURNEY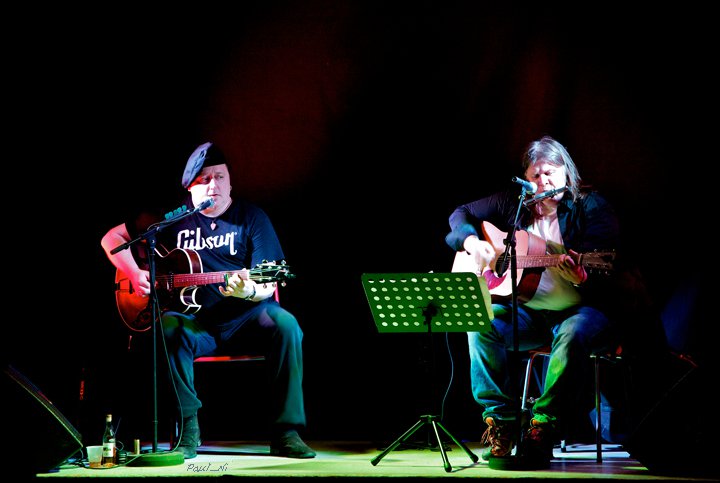 With my friend Geggen

Rebbe has worked with a wide array of national and international artists in several genres through the years. He was a founding member of the renowned country band `White Canyon`from Alta. Their selftitled debut album received platinum sales and was released on the norwegian label "Spectrum Record". They toured quite extensively around Norway and even toured in several european countries. They also had the pleasure of touring in the US, the homeland of country music in the 1990´s. The american record label "Comstock Records" from Scottsdale, Arizona, released their single "Our love is not perfect". It did great on the country charts, and got the honor of being "pick of the week" at several radiostations in and around Nashville. After several years hiatus, they released the single "Country Boy" in 2016 on Rebbely Hills Records.

In 2012 Rebbestad emerged as a conductor and singer for "Team Steinar" in the TV show "Det Store Korslaget" that aired on TV2. They won!

12th of october 2013 he released Marius Mullers hit "Carmen" as a tribute to the great norwegian guitarist. (Read a article from Altaposten here!) The song is available on streaming media such as Spotify, iTunes, Tidal etc. I 2019 he released two singles called "Nordlending" and "Hvil Under Stjerna" as a tribute to Tore Hansen and the legendary norwegian band, Unit Five. Rebbe was a part of Unit Five i 1988 - 1990, and played with Tore on several projects up until he left us in february 2013.

In 2020 Rebbe released the singles "Beggars blues" in march and "The longer you live" in december. (Read Article here) These are a taste of what to come with the release of the blues album "Shuffle" which will be released in 2022.

Rebbe is currently producing music for himself and other artists, in addition to be very active as a studio/ session and touring musician. He is touring a lot with Topcoat, Kurt Ivar Strøm, Samlebandet and Jan Arild Sørnes in addition to do gigs under his own name and "one-off" projects with various artists. Rebbe works at Hammerfest Kulturskole as a guitar, bass, piano and music technology teacher and performer. Check out the "Tour" page to check where the gigs are.

- Rebbe's sound and style is reminiscent both of Steve Lukather, Mike Landau and Brett Garsed, but he has his own uniqe style and phrasing. People first notice his incredible versatility and rocksteady technique, before being dazzled with both blistering, jawdropping licks and candlelight sensitivity. All this, and then some, in one package consisting of Rebbe and his guitars. Be sure not to miss out on Rebbe and his music! - Written by Jan Ludvigsen, 2006.
Read more on the links under and on Wikipedia

On these guitarpages you will ONLY find music related stuff, and of course, mostly information related
to my musical activities, MP3 files, lessons, band & projects info, info about my studio and much more.

Page last updated: Monday, 31 July, 2023 14:01

Design & Copyright 20©22 RebTek Multimedia
All Rights Reserved